Photography Adventure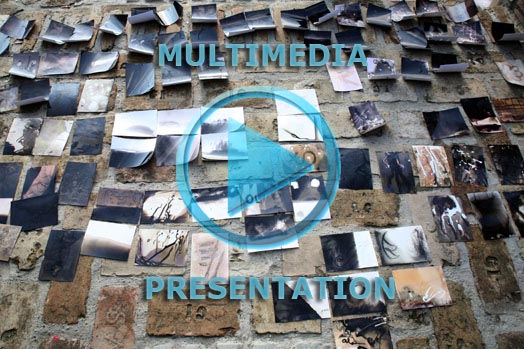 "PHOTOGRAPHY ADVENTURE"
Training course about using creative photography for social inclusion
for youth with educational difficulties
Content and aim

Period of realization:
From 19th to 26th September, 2010
Location:
Sremski Karlovci, Serbia
The main topics of the training:
Youth in Action Programme advocacy
Creative Photography – basic and creative techniques, portrait, nature, reportage...
Making Art Network
Social Inclusion Theory
The main goal of our training course "Photography Adventure" is to improve creativity and increase knowledge, learning methods and experiences of participants, so that they will be able to use it in everyday work for youth with educational difficulties (lower qualified persons) including them in active local community life.
Idea is to show that there is possibility to solve certain problem with method of creative photography. This art activity can lead to solution or point out a problem that can be resolved by working on it afterwards.
Target group: youth workers, youth leaders, social workers, play workers, youth animators, teachers and all people that are working on social inclusion, inclusion people with fewer opportunities, working with discriminated and marginalised groups of  youth, and young people that are actively involved in organization of any cultural and art manifestation, who wants to learn more about Creative Approaches Youth Work.
The objectives:
- to promote social inclusion as a most significant value working with youth with fewer opportunities – lower qualified persons
- to promote young people's active citizenship
- to develope skills of participants to become multipliers in their every day work with youth with fewer opportunities
Partners: 15 countries
Austria, Belarus, Czech Republic, Estonia,  France, Greece, Italy, Latvia, Lithuania, Macedonia, Netherlands, Romania, Serbia, Turkey, Ukraine
The Number of participants will be 30
The applied methods: non formal way of learning through experience of artistic methods working on creative photography. Using creative photography expression, participants will multiply products acquired from our TC in their every day work for youth with educational difficulties - lower qualified persons.
Funding:
100% for accommodation will be covered and 70% of travel cost (Apex tickets) will be reimbursed after receiving original receipts.
Presentation of project: www.fabrikart.org/photography_adventure/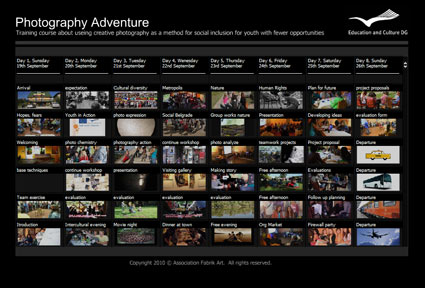 Accommodation and catering
HOTEL BELILO 69

Accommodation:
We will be accommodated in the hotel "Belilo 69" at the edge of Sremski Karlovci near Novi Sad. The hotel has all the basic facilities including a restaurant and wireless Internet.
Address: Belilo 69,
Sremski Karlovci, Serbia, tel: +381 (0)21 884 097, +381 62 195 88 44
For more information: http://www.sremski-karlovci.com/index_eng.html
Travel costs
We will reimburse 70% of the travel costs as listed below for the TC on the basis of the cheapest possibilities, e.g. second class railway tickets, bus, APEX-flights etc. by bank transfer after the TC and the receipt of all ORIGINAL tickets, bills, invoices, receipts, boarding tags/cards etc.
Maximum travel costs in € for each group from hometown to Sremski Karlovci and back:

Please note: only cheapest means of transport/fares are subject to reimbursement.

Promoter

Number of persons

From

To

Means
of transport

Total costs (100%)

Grant requested (70%)

Armenian Young Women's Association

2

Yerevan

Novi Sad

Plain, Bus, Train

900

630

Jugendzentrum Leoni

2

Leonding

Novi Sad

Plain, Bus, Train

400

280

Youth Informational Centre

2

Minsk

Novi Sad

Plain, Bus, Train

1100

770

Kulturni Centrum MEANDR o.s.

2

Prague

Novi Sad

Plain, Bus, Train

600

420

Eesti Erinoorsootoo Uhing noOR

2

Tallinn

Novi Sad

Plain, Bus, Train

900

630

INTERCULTURA Manifeste ARA

2

Saint HELEN - DINAN

Novi Sad

Plain, Bus, Train

800

560

International Youth Association "Quant"

2

Tbilisi

Novi Sad

Plain, Bus, Train

800

560

European Institute for Relations & Cooperation

2

Katastoria

Novi Sad

Plain, Bus, Train

600

420

CRIC (regional centre for intervention and co-operation)

2

Milano

Novi Sad

Plain, Bus, Train

700

490

NGO Password

2

Livberzes

Novi Sad

Plain, Bus, Train

1000

700

Jaunimo Asociacija "Galatika"

2

Vilinius

Novi Sad

Plain, Bus, Train

800

560

Council for Prevention of Juvenile Delinquency - SPPMD

2

Kavadarci

Novi Sad

Plain, Bus, Train

160

112

Stichting Brains & Hearts

2

Vlaardingens

Novi Sad

Plain, Bus, Train

600

420

Eco Art Isis

2

Ploiesti

Novi Sad

Plain, Bus, Train

400

280

Association of  Ankara Photographers (AFSAD)

2

Ankara

Novi Sad

Plain, Bus, Train

700

490

East Ukrainian resource Center "Social partnership"

2

Donetsk

Novi Sad

Plain, Bus, Train

800

560

"Fabrik Art"

2

Serbia

Novi Sad

Bus, Train

12

8
Organizers
Association Fabrik Art
The host organization is Association of artists – experts of drama, fine arts, applied arts, music and theory, management of culture and art "Fabrik Art". It is nonprofit organization based in Belgrade, Serbia. Through art "Fabrik Art" (www.fabrikart.org) works on positive promotion and education of values and creative thinking audience, which is mainly youth. We work on promotion intercultural dialogue through art and culture.
Founders and members of Fabrik Art organization are active experts and eminent artists: multimedia artists from art group "Feabrik" (www.feabrik.com) who did international and multimedia art projects mostly based on cooperation and cultural dialogue with foreign artists from Germany, Greece, America, Indonesia and Turkey. Those musicians played on various art festivals, and colaborated with animators – animation artists, active poetry writers and andragogs (experts for art education of adults).

Fabrik Art Association
fabrikart.org@gmail.com
www.fabrikart.org

Boris Radivojkov – President
+381 63 669 744 / +381 21 531 568
www.borisradivojkov.com
borisradivojkov@yahoo.com

Zeljka Milosevic – Project manager
+ 381 63 150 57 58
fabrikart.org@gmail.com
Trainers

Boris Radivojkov – expert for photography and educator
(http://www.fabrikart.org/boris_radivojkov.htm)

He finished the "Arts and Crafts secondary School" in Šabac, Painting, Conservation and Restoration. He graduated the "Faculty of Applied Arts" in Belgrade, Applied Graphics, specialism Photography. Boris is also educated through non-formal education: workshops, and training courses about art, culture, photography, music, painting, graphic, theatre and also about psycho-drama, pedagogy, psychology, sociology.
He participated with the photography and digital graphics in a number of national and international exhibitions. He is awarded in 2005 and in 2006 at the International Miniature Photography Saloon in Belgrade.  Boris had solo exhibition "Moved Wind" in museum of Contemporary Art of Vojvodina, in Novi Sad, Serbia 2008. With his multimedia art group "Feabrik" he presented his art works and art projects on art symposiums and festivals in Germany, Greece, Turkey and Serbia. He worked in cooperation with artists from many different countries on those projects.  He is founder of Fabrik Art organization, and he is involved in organization of culture and art programs. He organized exhibition of an American photographer and professor of Flounder Lee in Novi Sad, Serbia 2009.
He works as a professional photographer and educator. He leads workshops on "Sumer school of photography" in Novi Sad, Serbia. He is interested in work on improvement new educational methods (connected to techniques of art) for improving social aspects life of young people.

Nebojsa Djeric – experienced SALTO trainer
(http://www.fabrikart.org/nebojsa_djeric.htm)

Well experienced Salto trainer of non-formal education and youth worker actively involved in NGO sector from 1995. As a creator of projects, project coordinator, youth worker, educator/facilitator he has participated on many different local, national and international youth projects that are related with youth work and human rights.
From 2000 as a trainer completely devoted to non-formal education using Youth Programme (Youth in Action Programme). Nick is open-minded, friendly, communicative, positive, tolerant and ready to implement/experiment on new methods (connected to techniques of animations and methods used in theatre) in order to animate people to get actively involved in workshops and training activities.
As a trainer/facilitator he has a good interaction with groups of participants, very flexible/adaptable and capable of noticing their needs and able to manage and recognize processes in the group as the training unfolds.
Thanks to his occupation and willingness to work with youth, to devotedness and activities in youth work, thanks to created and approved projects from Youth in Action Programme, as a trainer/educator Nick has worked with young people from the whole Europe and the world.
Nick travelled a lot, had a cooperation with many youth NGO and he is still active in improving skills, knowledge and experiences as a trainer working in different countries: Serbia, England, Austria, Romania, Sweden, Czech Republic, Hungary, Bulgaria, Macedonia, Bosnia & Herzegovina, Croatia, Montenegro, Poland, Netherlands, Northern Ireland...

Info For Foreigners

- Where is serbia,Where is Belgrade, Novi Sad, Sremski Karlovci, Visas FAQ, Travel in Serbia, Languge and Alphabet, Money, Telephones, Visit (recomandations)
Read more>> Info for foreigners
Support
Foundation
The European Commission, the European Parliament and the Member States of the European Union have agreed to establish the Youth in Action Programme, which puts into effect the legal framework to support non-formal learning activities for young people. It will run from 2007 to the end of 2013.
Find more about it on: http://ec.europa.eu/youth/index_en.htm