Heuristic Game 1- 9 March 2011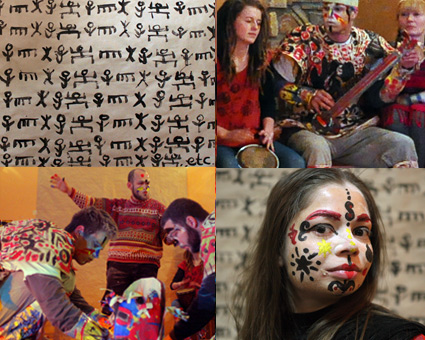 "HEURISTIC GAME"
From 1st to 9th March 2011
Training Course about using creative methods and art for inclusion of social excluded young people from different cultural, ethnic and religious background.


About the Project
            The main goal of our training course "Heuristic Game" was to offer to participants new art techniques and creative methods with the aim to improve inclusion of excluded groups of youth – young people from different cultural, religious and ethnic background. On our training course, using non formal way of learning (creative methods, art and music), participants got necessary knowledge and skills about new art techniques and methods. With this, participants will become multipliers of products from our training course.Through research "Heuristic Game", participants came to creation of one different, unusual music, which is mixture of all cultural impacts which participants transform through more multy-interactions music and all other kinds of art in one specific and original product.

           Activities on training course was making instruments, playing instruments and using voice, individual and group improvisation, drawings, making masks, photography, video, making objects, spending time in nature and contact with nature, ecology, recycling.
            Target group on our training course: are people actively involved in work with social excluded youth from different cultural, ethnic and religious background (youth workers, youth leaders, play workers, NGO activists, school teachers, social workers).
             Process and Product of our TC: During our TC paricipants will be in the process of creation of New – made-up Civilization (the participants will decide about the name) using Heuristic game method.  They will present this product through music concert, performance, exhibition of paintings, drawings, masks, alphabet, history, mythology, habits, art and other cultural elements… The message of this product will promote values of cultural diversity and active participation of young people from different ethinc, religious and cultural background.

Process of Training Course "Heuristic Game"
About using creative methods and art for inclusion of social excluded young people from different cultural, ethnic and religious background.
Proces of TC Heuristic Game >

Products of Training Course "Heuristic Game"

About using creative methods and art for inclusion of social excluded young people from different cultural, ethnic and religious background.
Products of Heuristic Game >

Meaning of the word "Heuristic"


Heuristic (from the Greek "Εὑρίσκω" is to "find" or "discover") is an adjective for experience-based techniques that help in problem-solving, learning and discovery.
A heuristic method is used to come to a solution that is hoped to be close to the best possible answer, or 'optimal solution. Veljko Nikolic applied this method on working on his music and art. His  first course was "Workshop for repair of the city" in 1980, and since then, he led many music workshops and art activities, continuing on working and improving this educational method.








This art method has been used in creating inovative art ideas, visual arts, elements of cultures,  as an aid in researching new forms in art and culture.
It contributes better understanding of "different" cultures and promoting the values of cultural diversities. By understanding others, participants are becoming more tolerant and that is the first step for inclusion of excluded youth groups. Art and creative methods will be combined to include social excluded young people from different cultural, ethnic and religious background.
The arts enable people to understand the world in which they live!
______________________________________________________________________
Objectives of project were:
- to offer new art and music techniques, creative methods for improving inclusion of excluded groups of youth – young people from different cultural, religious and ethnic background
- to encourage excluded young people from different cultural, ethnic and religious background to play an active role in their communities
- to contribute participants development of creative capabilities and skills in youth work using creative methods (art and music techniques)
- to promote inclusion as a most significant value working with youth with fewer opportunities
Working language:
English
Period of realization:
From 1st to 9th March 2011
Location:
Sremski Karlovci, Serbia

Partners:
All interested Program countries and Neighboring Partner countries.
Funding:
Youth in Action Programme
Partner Organizations
_____________________
Association Fabrik Art, Serbia
Warm Hand Association, Albania
Bridge to the future Youth Union, Ganja
United Youth, Armania
Youth Information Centre, Belarus
The Bridge, Bosnia
Raplection, Croatia
Association Pistes Solidaires, France
CRISP – crisis simulation for peace e.V, Germany
Unesco youth club, Greece
CEIPES - Centro Internazionale per la Promozione dell'Educazione e lo Sviluppo, Italy
Jaunimo Asociacija "Galatika" , Lithuania
Association for protection and education children and young Roma "Progress" , Macedonia
Association for Democratic Prosperity - Zid, Montenegro
Fondacja Biuro Kultury, Poland
AEGEE-Moskva, Russia
Centro Social Universitario, Spain
W-AFPIAAP, Turkey
Center of European Cooperation, Ukraine
Organizers
Association Fabrik Art
The host organization is Association of artists – experts of drama, fine arts, applied arts, music and theory, management of culture and art "Fabrik Art". It is nonprofit organization based in Belgrade, Serbia. Through art "Fabrik Art" (www.fabrikart.org) works on positive promotion and education of values and creative thinking audience, which is mainly youth. We work on promotion intercultural dialogue through art and culture.
Founders and members of Fabrik Art organization are active experts and eminent artists: multimedia artists from art group "Feabrik" (www.feabrik.com) who did international and multimedia art projects mostly based on cooperation and cultural dialogue with foreign artists from Germany, Greece, America, Indonesia and Turkey. Those musicians played on various art festivals, and colaborated with animators – animation artists, active poetry writers and andragogs (experts for art education of adults).

Fabrik Art Association
fabrikart.org@gmail.com
www.fabrikart.org

Boris Radivojkov – President
+381 63 669 744 / +381 21 531 568
www.borisradivojkov.com
borisradivojkov@yahoo.com

Zeljka Milosevic – Project manager
+ 381 63 150 57 58
fabrikart.org@gmail.com
Trainers of TC Heuristic Game
Veljko Nikolic and Nebojsa Djeric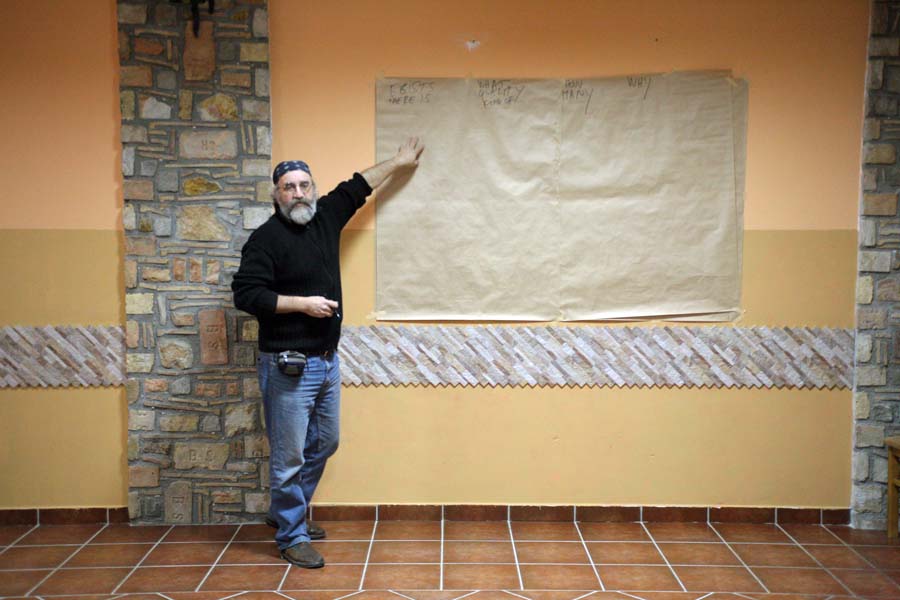 Veljko Nikolic "Papa Nik" – expert for music, art and educator
(http://www.fabrikart.org/veljko_nikolic.htm)


Veljko Nikolic "Papa Nick" works on personal genuine music, through permanent research & building of instruments, experimental fusion of ordinary modern instruments and sounds & ways of playing and primitive (archaic) ones.

Main instruments: piano & percussion, Secondary instruments: all of them. He played with great number of different musicians from country and all over the world; now using these experiences. Together with S.A. Fraparega in 1974 founded experimental music group "INSTITUTE" promoting "Neo Neo Fluxus" (Music, Arts and Everything), a group that exists and works till today, and he is the keeper of it's tradition.


Veljko Nikolic graduated architecture and he is also work on painting pictures and makes sculptures, ceramics... Since 1980, he intensive work with various groups in Belgrade . Veljko Nikolic in his very long and successful professional career have worked with many well known people as a African musicians (Honorio Chco, Djassi Arafan, Arnaldo Nafm'pelna, Paolo Mota,  Alberto Dias, Boms N'du, Sammy Omojowo, Jill Aduki, J.P Moustache, Dr. Mowa, etc...)
Also great cooperation is still actual with musicians from many European and Balkan countries (Miroslav Savic, Vladimir Tosic, Miodrag Lazarov Pashu, Milimir Draskovic, Marjan Sijanec, Nada Kolundzija, Vojin Draskoci, Lala Kovacev, Milos Petrovic, Mica Markovic, Jovan Maljokovic, Boris Kovac, Miroslav Statkic, Ivan Svager, Vladeta Kandic "Bata Kanda", Mihajlo Blam, Dusan Bogdanovic, Miroslav Tadic, Vlatko Stefanovski, Vojislav Ivanovic, Nebojsa Ignjatovic, Milco Levijev, Nenad Jelic, Miroslav Karlovic, Zoran Eric, Srdjan Hoefman, Okay Temiz, Nikolas Simionu, Floros Floridis, Uday Mazumdar, Sangej Gukha, Fatos Kerimi, Decebal Badila, Ergun Serdindzirli, Dragan Dautovski, Mola Sila...)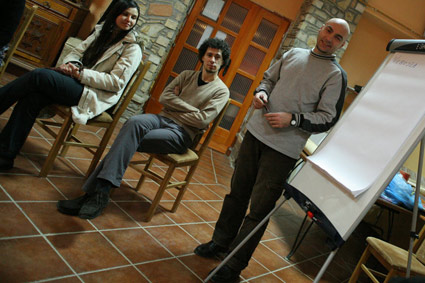 Nebojsa Djeric "Nick"– experienced SALTO trainer
(http://www.fabrikart.org/nebojsa_djeric.htm)

Well experienced Salto trainer of non-formal education and youth worker actively involved in NGO sector from 1995. As a creator of projects, project coordinator, youth worker, educator/facilitator he has participated on many different local, national and international youth projects that are related with youth work and human rights.
From 2000 as a trainer completely devoted to non-formal education using Youth Programme (Youth in Action Programme). Nick is open-minded, friendly, communicative, positive, tolerant and ready to implement/experiment on new methods (connected to techniques of animations and methods used in theatre) in order to animate people to get actively involved in workshops and training activities.
As a trainer/facilitator he has a good interaction with groups of participants, very flexible/adaptable and capable of noticing their needs and able to manage and recognize processes in the group as the training unfolds.
Thanks to his occupation and willingness to work with youth, to devotedness and activities in youth work, thanks to created and approved projects from Youth in Action Programme, as a trainer/educator Nick has worked with young people from the whole Europe and the world.
Nick travelled a lot, had a cooperation with many youth NGO and he is still active in improving skills, knowledge and experiences as a trainer working in different countries: Serbia, England, Austria, Romania, Sweden, Czech Republic, Hungary, Bulgaria, Macedonia, Bosnia & Herzegovina, Croatia, Montenegro, Poland, Netherlands, Northern Ireland...
Support
Foundation
The European Commission, the European Parliament and the Member States of the European Union have agreed to establish the Youth in Action Programme, which puts into effect the legal framework to support non-formal learning activities for young people. It will run from 2007 to the end of 2013.
Find more about it on: http://ec.europa.eu/youth/index_en.htm